HMS Achille
Captain Richard King
HMS Achille was the fourth Royal Navy ship to bear the name of the Greek hero Achilles. It was a fourth-rate frigate, meaning it had between 64-80 guns. The French spelling was used by the RN because the first and third ships were French warships with the same name, and were subsequently captured by the RN.
At Trafalgar Achille was stationed seventh in the Lee Column under Admiral Collingwood. Admiral Nelson was in command of the Weather Column. She lost 13 killed and 59 wounded, the sixth heaviest casualty total. Still, she got off lightly: among the 74 gun frigates Colossus had 206 casualties, being the worst hit of any British ship; Bellerophon had 150 casualties.
The diagram below is from http://www.britishbattles.com/waterloo/battle-trafalgar.htm
<![if !vml]>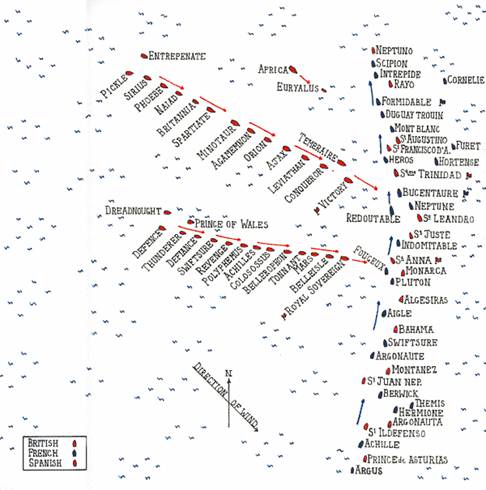 <![endif]>
Captain Richard King
From http://www.treeforall.org.uk/trafalgar/TrafalgarWoods/Otherwoods/Achille/
Only son of Admiral Sir Richard King Kt., MP by Susannah Margaretta, daughter of William Coker of Maypowder, Dorset. He was born 1774 and entered the service in 1788. He was promoted Lieutenant in 1791 and Captain in 1794. He was a member of the court-martial which tried Richard Parker, the ringleader in the Mutiny on the Nore in 1797. In the spring of 1805 he was appointed to the Achille which he commanded at the Battle of Trafalgar. In the lee column she did excellent service and lost heavily; he was rewarded with the gold medal, received the thanks of Parliament, and a sword of honour from the Patriotic Fund. In 1806 he succeeded to the baronetcy. Died of cholera at Admiralty House, Sheerness in 1834.
Achille engaged the Spanish 74-gun frigate Montanes between 12:15 and 12:30 PM then joined other ships that had been battering the Spanish 80-grun frigate Arganauta. Achille was to take the Spanish frigate's surrender when the French Navy's Achille, also of 74 guns, entered the melee. French Achille sailed on.
In her place arrived the French Berwick - another coincidence because she has been captured from the Royal Navy. She closed with HMS Achille who battered her for 75 minutes before the French ship surrendered after losing 50% of her 500-man crew as killed or wounded.
The HMS Achille figurehead below is from the French website http://gabierschimeriques.free.fr/modelisme/figuredeproue_fichiers/image004.jpg which models sailing ships. We were unable to tell if the ship in question is the Trafalgar HMS Achille.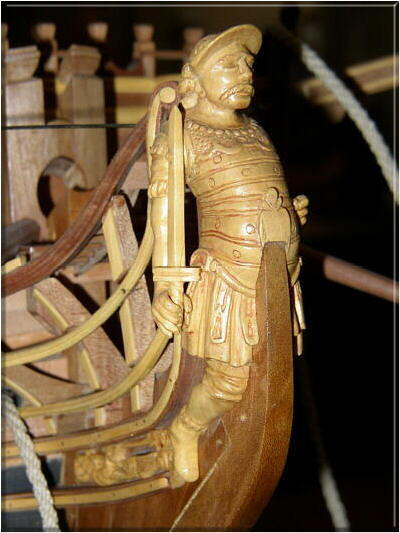 Further details of HMS Achille's service can be found at http://www.cronab.demon.co.uk/A1.HTM
_____________________________________________________________