Thumbnail Sketches of Other Jat Battalions
Last updated June 11, 2011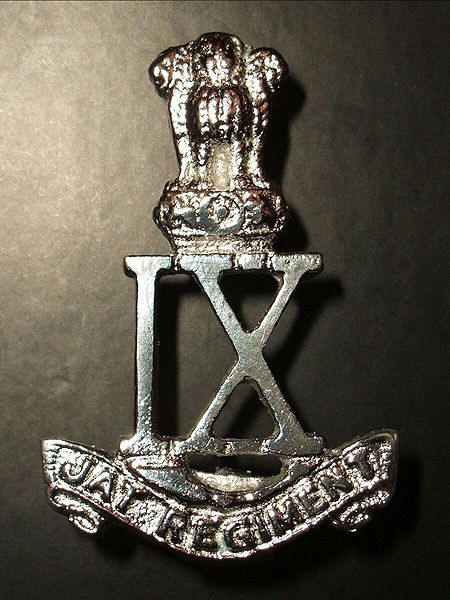 http://en.wikipedia.org/wiki/Image:The_Jat_Regiment_Chrome_Insigna.JPG
This is a holding area for information about other battalions until we have enough material for a separate battalion page.
Entries marked with a star are the work of Hamid Hussain. Other entries, unless marked, are the work of Ravi Rikhye.
1 Jat
1962: Ladakh
1965: Fought under 38th Brigade of 15th Infantry Division, XI Corps. Supported by two troops A/14th Horse, it came under command of GOC 15th Division and operated along route Amritsar-Lopoke-Kakkar-Ranian to block any Pakistani attempt to outflank 15th Division.
1980: Became 2 Mechanized Infantry Regiment.
2 Jat
1947-48
December 1947: Jammu sector, 268 Infantry Brigade.
March, 1948: Jhangar sector, 50 Parachute Battalion.
April, 1948: Relief of Rajouri.
November, 1948: Jhangar sector, 268 Infantry Brigade
1971
Battle of Dhalai, East Bengal. 31st October to 3rd November 1971. Was opposed by B/30th Frontier Force in a series of fierce battles, losing 44 KIA and 89 WIA. The Pakistanis lost 68 KIA from 30 FF and 89 from a militia company under command of B/30th Frontier Force. The higher number of defender casualties occurred because a second Indian infantry battalion participated, along with two artillery regiments. The battalion was part of 61 Mountain Brigade, itself under XXXIII Corps.
The battle as seen from Pakistan's side, along with a lengthy analysis from 2 Jats' side, is available at  http://www.defencejournal.com/dec98/battle-dhalai.htm
*In 1971 war, 2 Jat was commanded by Lt. Colonel Dalal and 30 Frontier Force (FF) was commanded by Lt. Colonel Ahmad Mukhtar Khan. Among 30 FF losses was the battalion 2i/c Major Raja Javed Akhtar.
3 Jat

 
Separate page
4 Jat
1971 *In 1971 war in Suleimanki /Fazilka sector, 4 Jat (part of 67th Infantry Brigade) was in the area defended by elite Pakistani battalions (6FF, 7 Punjab and 18 Baloch of 105th Independent Infantry Brigade). Indian army Chief General Sam Manekshaw was commissioned in 6 FF then known as 4/12 Frontier Force Regiment. He fought in Second World War as a PIFFER. He was severely wounded and won a Military Cross. In 1947, when Frontier Force Regiment and Rifles were allotted to Pakistan, Sam joined Gurkha regiment.
During 1971 war, he would ask during briefings about performance of his old battalion 6 FF now fighting from Pakistani side. He told his military secretary that he wished one of his Gurkha battalions take on 6 FF. However, this honor went to 4 Jat. B company of 6FF was led by Major Shabbir Sharif. Earlier Sharif's company had given 3 Assam run for their money and captured their positions. The counter attacks on Pakistani positions were from equally worthy adversaries of 3 Assam (39 casualties) and 15 Rajput (70 casualties) battalions. However, the most determined counter attack was from 4 Jat. 4 Jat company commander Major Narayan Singh with few of his men penetrated 6 FF positions and was killed in hand to hand fight. Next day his brave adversary Major Shabbir Sharif was also killed in action. 4 Jat suffered 69 casualties in this battle. This was quite a bloody affair where Indian losses were about 200 killed and about 400 wounded. A thankful nation paid their tribute to the defenders by erecting Asafwala war memorial in Fazilka in memory of 67th Infantry Brigade.
1988-90: Sri Lanka
1994: Nagaland
* 1999: In 1999 Kargil conflict, Lieutenant Saurabh Kalia and five soldiers of 4 Jat were the first casualties of the conflict when their patrol was ambushed in Kaksar area. Later, two more patrols of 4 Jat led by Lieutenant Amit Bhardwaj and Major Vikram Singh Shekhawat were sent and they also suffered casualties.
5 Jat
Separate page
6 Jat
1965: 162nd Brigade, 26th Division.
1993-1994: Siachin
7 Jat
1965: 162nd Brigade 26th Division
1997: Jammu and Kashmir Counter Insurgency
8 Jat
1971:  Banwat sector, south of Poonch [93rd  Brigade, 25th Division, XV Corps]
9 Jat
1971: Second Battle for Chaamb [first was in 1965], [191st Brigade, 10th Infantry Division]
10 Jat
Regimental training center.
11 Jat
1988-89: Siachin
12 Jat
Served in Sri Lanka 12th June 1988 to January 1990, and in Siachen 1998-99.
14 Jat
1965 served with 120th Brigade, 25th Division, XV Corps.
15 Jat
16 Jat
Served in Siachen 1990-91.
17 Jat
17 Jat participated in Drass sector during this conflict.
18 Jat
19 Jat
20 Jat
Served in Siachen 1990-91 (1989-1990?)
21 Jat
Served in

Siachen

1991-92.